Perrycroft House
---
Perrycroft was designed by Charles Francis Annesley Voysey in 1893, for Midlands industrialist John William Wilson MP.  Completed in 1895, the house and garden in its hillside setting encapsulate the romantic ideals of late Victorian and Edwardian country life.  John W Wilson was Partner in the Oldbury chemicals company Albright and Wilson whose main production was phosphorous for matches, a position which he inherited from his father John Edward Wilson.   John E Wilson and his Partner Arthur Albright were both quakers, and connected by marriage as John Wilson senior was married to Arthur Albright's wife's sister.  Arthur Albright's son George,  J W Wilson's cousin and fellow Partner in the firm, bought Bromesberrow Place at the southern end of the Malvern Hills in 1879, and so it is easy to imagine that Wilson was very familiar with the Malverns from visiting his family by the time he came to build his own dream house.
Perrycroft sits high on the west side of the Malvern Hills, above the village of Colwall.  The Malvern Hills Conservators were established in 1884 to protect and manage the Malvern Hills.  Shortly afterwards, for Queen Victoria's Jubilee in 1887, a Drive was constructed between two existing cuttings across the Hills at Wyche and British Camp.  Jubilee Drive opened up this previously remote and inaccessible stretch of hillside.  John Wilson, being one of the early enthusiasts for the magnificent splendour of the Malvern Hills, in 1893 bought a stretch of land amounting to 80 acres on the western slopes, on which to build his new house.  He commissioned C F A Voysey to design a small country house with lodge, stables and coach house. Perrycroft was the first major commission for Voysey, and one which helped him to develop his style as an architect and establish his reputation, being widely illustrated in journals of the day.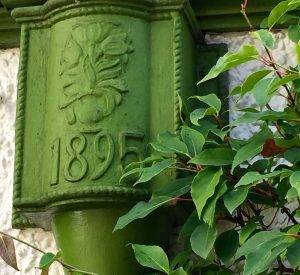 1895 was a significant year for John Wilson, as not only was his house completed, but this was the year he entered Parliament as a Liberal Unionist MP for North Worcestershire, a position which he retained for 27 years, latterly as a Liberal. He was a Privy Councillor from 1911, and probably resided for much of the year at his Westminster home in Queen Anne's Mansions.  Perrycroft was very much Wilson's country retreat from the hurly burly of both parliamentary and business life. It is likely that John Wilson's quaker background would have led him to the same social circle as non-conformist Charles Voysey, who by 1882 had set up his architectural practice in London.  Voysey was at this time better known as an innovative and fashionable designer of flat patterns, particularly for wallpapers.  His architectural practice began to emerge  in 1888 with his first architectural commission, The Cottage in Bishop's Itchington, Warwickshire, for M H Lakin.  Here Voysey's use of vernacular buttressed brickwork and whitewashed roughcast was necessitated by a stringent budget, but this become his signature style which he used just a few years later at Perrycroft, a major project where no expense was spared.
The house is based upon an L shaped plan, with both the main and luggage entrances positioned in the square courtyard enclosed within the crook of the building.  The house and garden are closely related to the landscape setting and present a unified whole with the lodge and stables buildings.  In this respect Perrycroft is very much in the Arts and Crafts tradition of harmony with nature, and Voysey was particularly concerned to create a sense of homeliness, repose and restfulness, and security.  The reception rooms and bedrooms face South and West looking to fine views of the British Camp and across towards Wales.  This gives the house a very light and airy feel,  the layout being surprisingly modern and rational, with a central hall leading directly to the four reception rooms.  The open plan nature of the house is a repudiation of Victorian clutter and paves the way for the Modernism of the 20th century.  At Perrycroft Voysey combined architectural vernacular while anticipating architecture of the future.
Perrycroft, as with all Voysey's architectural works, was conceived as a single work of art.  No detail was too humble for the designer's attention.  Following the Arts and Crafts Movement's aim of combining usefulness with beauty, Voysey designed everything from the doorknobs to the rainwater hoppers, the joinery, the fireplaces and even the ventilation and drainage systems. More than 80 of Voysey's detailed drawings for Perrycroft are housed in the RIBA collection at the Victoria and Albert Museum, and these have proved invaluable in restoring the house to his original vision.